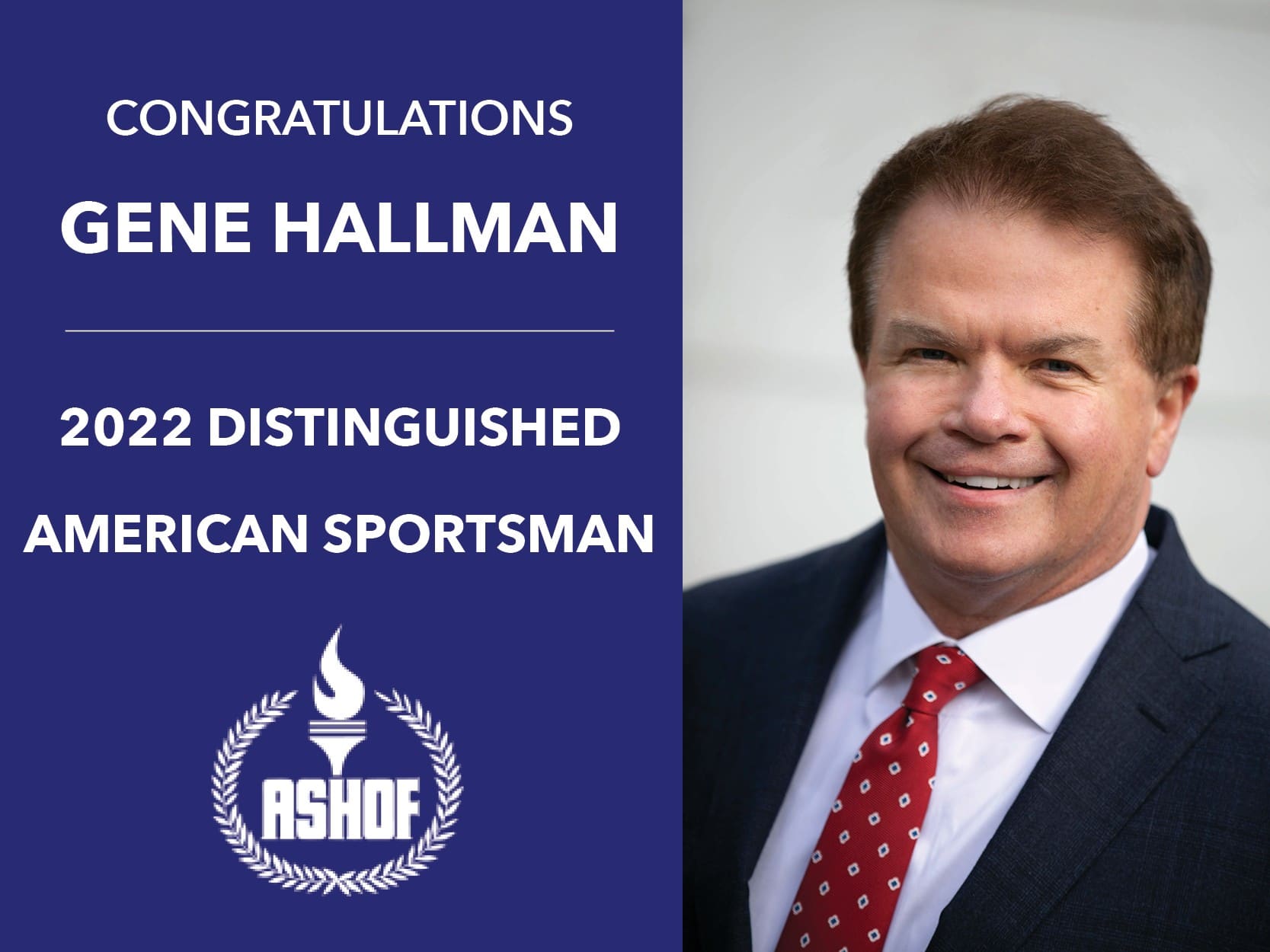 The Board of Directors of the Alabama Sports Hall Fame announced today, Gene Hallman will be the recipient of the 2022 Distinguished American Sportsman Award.
The Distinguished American Sportsman award is an honor given to an individual (in- or out-of-state) who has made lifetime contributions to humanity and sports. Some previous recipients of the Distinguished American Sportsman Award include Bob Hope, entertainer (1988), President George H. W. Bush (1992), SEC Commissioners Roy Kramer (2003) and Mike Slive (2015), and Ron Froehlich (2015), honorary Life Chairman of The World Games. Mr. Hallman's business partner for more than 25 years, Ronnie Bruno, was recognized in 2009 as a Distinguished Alabama Sportsman. The Alabama Sports Hall of Fame induction ceremony will take place on May 7, 2022. Read more about other inductees in the class of 2022: https://tinyurl.com/5vw4btp4
The Alabama Sports Hall of Fame is one of the country's most prestigious organizations with previous inductees including Paul "Bear" Bryant, Jesse Owens, Hank Aaron, Joe Namath, Pat Sullivan, Bo Jackson, Nick Saban, Joe Louis, Dabo Swinney, Bart Starr, Charles Barkley, Bobby Bowden, and Willie Mays.
Gene Hallman co-founded and is currently Chief Executive Officer of Bruno Event Team which has grown into one of the country's largest dedicated sports event management companies. Bruno Event Team has more than 80 employees located in nine offices throughout the US and Bermuda.
Bruno Event Team's resume includes notable events such as US Women's Open, US Senior Open and many other professional golf tournaments on the PGA Tour, PGA Tour Champions, and LPGA. Other significant events managed include Magic City Classic, SEC Baseball Tournament, WBC Heavyweight Championship title fights, SEC Gymnastics Championship, SEC Women's Golf Championship, SWAC Football Championship, Honda Indy Grand Prix of Alabama, Davis Cup, Fed Cup, 1996 Olympic Soccer, and 2004 Olympic Marathon Trials. Bruno Event Team is assisting with the management of The World Games to be held in Birmingham during the summer of 2022. Since 2008, Bruno Event Team has managed Gameday operations for the University of Alabama football, basketball, and gymnastics programs. More recently, Bruno Event Team has worked with Auburn University, UAB, Alabama State University and University of Notre Dame on various aspects of their football gameday operations.
The first sporting event managed by Mr. Hallman, the Regions Tradition, will celebrate its 30th anniversary in 2022, having raised more than $20 million for Alabama charities.
Hallman is also a member of the Birmingham Golf Hall of Fame and the Birmingham Business Journal Top 40 Under 40 Hall of Fame.